Veröffentlicht auf 27. Januar 2013
What's new in the HB world? What are the new colours? The new styles?
Let's explore some of the new 2013 collections :-) I will look at bags that I feel special or worth looking at.
I start by looking at Dior. We all know the "Miss Dior". It seems like pastel colours but also more flashy shades make up Diors' look for '13.
Not to forget are also the "Diorissimo" Bags, which I adore and appreciate a lot. We know them in soft lamb skin leather in different colours such as blue and natural powder tones.
The 2013 colours for that bag are lighter. Also Dior likes to combine lamb skin with canvas.

Chanel. Always adorable :-))
Of course we have to look at the "2.55 flap bag" - it's such a classic and iconic model. The spring - summer 2013 pre-collection shows it in very soft suede bullskin. The colour is somewhow powdery. Very light and chic.
A complete contrast to this particular and rather elegant flap bag is the 2.55 in jersey. It comes in a vibrant and very rich blue. Combined with white clothing it surely looks stunning.
For further '13 bags have a look at the video below. You will see that Chanel's collection comprises rather traditional shapes that we know from the previous year(s). However, textures, colours and special features have been changed :-) simply beautiful
I would like to share with you some of the '13 styles of Céline. Of course the traditional luggage and trapeze bags are still making up the collection. There, natural linen are part of the main material being used.
But the real "newies" are shoulder bags called "All Soft" here in Calfskin Tan (pic).
It's very Céline, very simple, understatement, elegant. Love this collection!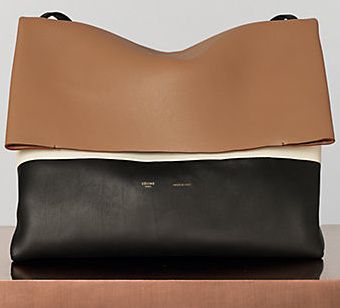 Another nice style of Céline is the "Edge" one. It's very nice and comfortable to wear, easy to combine and super special. It comes in bright redish-orangy colours.
The one on the picture is the pony calfskin bright orange.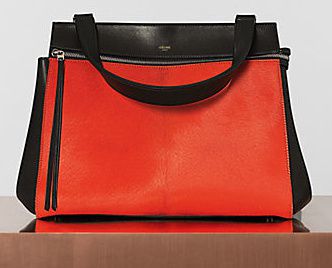 Louis Vuitton counts on flashy intense colours for spring 2013. Also, they focus on simple rather small bags, also inspired by the 70's. Check out the video below - you surely recognize some of the "bag" shapes :)
Bottega Veneta also counts to my favourite bag manufacturers. Their quality and leather is just fully amazing. We know the famous "Poussin Intrecciato" which totally counts to the classic bags of Bottega. However, there are obviously also new shapes in bags :-) But I rather want to focus on the beautiful new colours they brought out. So have a look at their decent colours :-) xoxo