Veröffentlicht auf 26. Januar 2013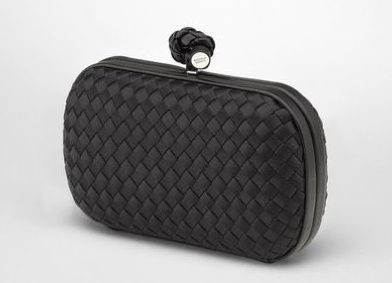 This ranking of the top 5 must haves goes along with my personal style and what I wear most often and the simplicity of combining.
Let's start off...
5) Every woman should have a clutch in her possession. In fact, when you go out you totally want something comfortable and easy to wear. The least you desire is a big large tote that comes in your way all night long. Therefore, my all-time clutch is the black satin knot clutch by Bottega Veneta. It has enough space for the most important necessities but also has a gorgeous apperance.
The Kardashian sisters wearing the Bottega Veneta Clutch
4) This bag is my every-day shoulder bag: the Artsy MM in Aurore from Louis Vuitton. I love this one. Although the leather looks tough (which it is) it feels absolutely gorgeous at the same time. The colour is amazingly radiant and you surely have enough space for your 1000 knick-knacks without the bag looking over-sized.
3) Let's move to the top 3. The bag that won this 3rd place is a very versatile one; the brown lambskin Granville Dior bag. There is more than just one way to wear it; cross-body, long strapped, flapped (see picture) or just casual as a handbag. There is definitely something about its shape and appearance. I like that you won't see it around every corner. I have the Granville Dior bag in brown with python skin on the "inside" where it's flapped. Its leather is to die for - so baby soft. i love love love this one.
2) Well, it's getting serious here. I must say that I have many bags that I adore, although this one is definitely one of the more popular ones amoung purse-aholics; but at the same time very rare to actually see. My personal number 2 is the lambskin Maxi Jumbo Flap bag from Chanel in black and gold. Surely, there is no big explanation needed. I believe that this bag has it all; glamour, style, and the special something why every one wants to own one one day. I absolutely love that you can wear it long chained, short chained, cross body or just as a normal shoulder bag. I combine it with casual outfits as well as more elegant ones; just as I use it also for travelling. It's my well deserved number 2.
1) And the winner is my 35 Birkin etoupe. This iconic bag absolutely derserves it's popularity. It fits always to no matter what you wear. The size is just perfect and the "handling" of it very comfortable: you can leave the side-straps loose or open. The colour adopts to your outfit and the bag itself helps to emphasize on what you want to express; your style and your look. It's an absolute dream must have allrounder handbag.